How to Create Your Dream Kitchen Remodel on a Budget | 5 DIY Ideas to Save Thousands
The kitchen is the heartbeat of your home. So don't settle for anything other than making it your dream space! These 5 big picture DIY ideas will bring your dream kitchen remodel on a budget within reach.
Our Kitchen Remodel on a Budget Story
We spend A LOT of time in the kitchen. Hence, From Scratch Farmstead.
We've also owned three different houses in the past several years. If we were going to invest time and money into remodeling any part of those homes, the kitchen was the obvious winner. So, all three got a major kitchen remodel!
Yes, they were all DIY projects that took a fair amount of work. But we were also able to tackle all three on very tight budgets. All while adding thousands of dollars in value to our home and creating a kitchen space that we loved.
Why Remodel Your Kitchen on a Budget?
When it comes to remodeling your kitchen, there are two streams of logic: Consumer Logic & Values Logic.
Consumer Logic
Consumerism is deeply engrained into our culture. Companies spend thousands, even millions of dollars implementing the best tactics and strategies to get you to believe you can't live without their product. Buy new. Buy now. Buy more.
Values Logic
Values based thinking and decision making moves you from passive consumption to active and intentional results. This mentality allows you to get creative, scrappy, frugal, and unleash your inner DIY spirit to create a beautiful and functional space while living within your means.
Am I saying to never buy anything new? Not in the least. But don't just buy something new because that's what the cultural message and expectations around you are. We looked around for alternative kitchen sink options, but in the end decided that the farmhouse kitchen sink from Home Depot was the right purchase.
So, you mean everything I end up with is going to be cheap and low quality? Again, not at all. Spending less doesn't need to equate to cheap. In our experience we often end up with significantly higher quality purchases when buying used or secondhand items than we could have afforded new.
We'll break down our 5 kitchen remodel on a budget tips below. But in order to be successful at it you need to adopt values-based logic. This can take some rewiring of our brains to not believe that everything needs to be spotless and new.
But if you can "see through" the marketing and sales ads vying for your dollars, there's a whole new world of options and opportunities out there that can fit within any budget.
5 DIY Ideas to Remodel Your Kitchen On A Budget
1. Appliances
Like clockwork, you can bank on every box store near you having a "big" appliance sale around just about every holiday. But so many other appliance options exist other than buying new!
Here's something to think about. My wife's parents have had the same appliances in their house for her entire life. Fridge, oven, washer & dryer. They've worked with only minor repair needed for over 30 years!
Compare that to modern appliances. I can point to handfuls of examples of friends and family who have purchased new appliances with high price tags only to have them fail within a couple years just outside the warranty period. Yes, it's new. But are you really buying something "better" and getting your money's worth?
We have only ever bought used appliances. Even if they don't last long, you're not out very much money. But most have worked just fine and been higher quality than we could have afforded new.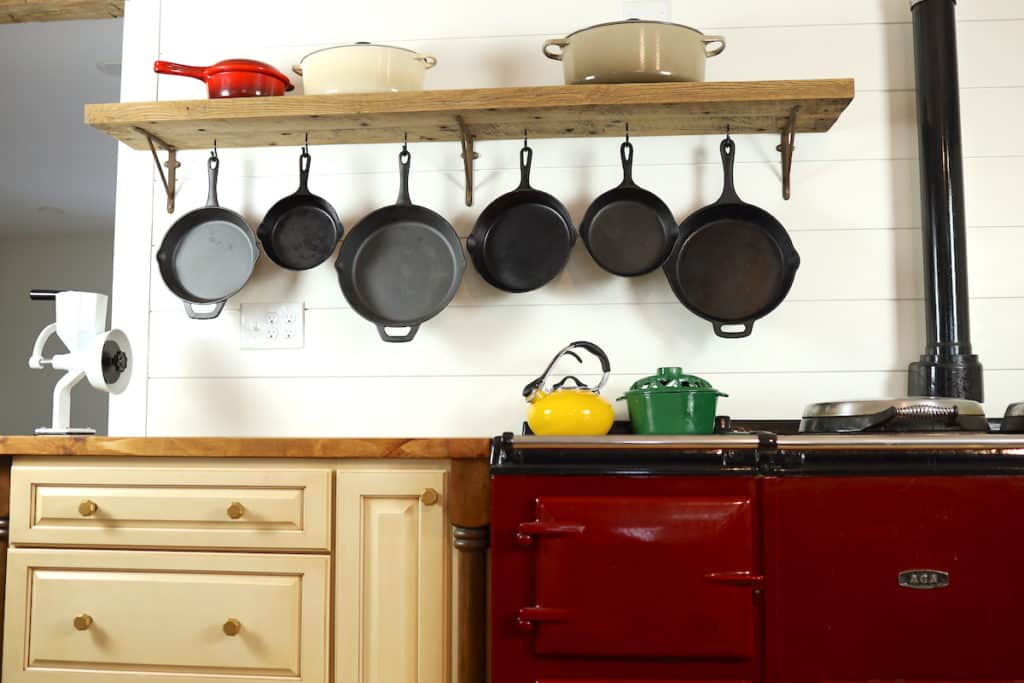 Here's some ways to save on appliances:
Look Used on Facebook Marketplace and Craigslist
Plenty of people sell their slightly outdated, yet perfectly functional appliances when updating their home. We scored a matching fridge, range, dishwasher set for $150 that really wasn't that old and has worked out great. Check listings regularly, be patient, and have a plan in place to pick something up right away when the right option comes up.
Buy Scratch and Dent
Many brand-new appliances never make it to the showroom because of minor cosmetic flaws in manufacturing or shipping. Some retailers have outlet stores, or even some larger secondhand stores like a Habitat for Humanity Resale Store, stock many scratch and dent appliance options. Yes, you may forgo the warranty and be taking that risk. But you'll end up with a brand-new appliance and save hundreds.
Keep what you have!
Sometimes adopting the "if it ain't broke don't fix it" mindset is the best and most budget friendly option. We did a complete remodel on our first kitchen and assumed at the start that the appliances would be replaced. But once we cleaned them up a bit and fit them into the updated space, suddenly they looked great and even fit the classic farmhouse theme we had going on!
2. Cabinets
New kitchen cabinets can easily cost as much or even more than you would spend on the entire rest of your kitchen. So, avoid new cabinets!
On all 3 kitchens we remodeled we've been able to give the space an entirely new and vibrant feel with spending little money on cabinets. Here are some ideas:
Buy used cabinets. Entire kitchen makeovers are frequent. Often in nice homes with lightly used cabinets. To avoid the landfill, many of these complete kitchen cabinet sets end up on resale sites. In our first home, we bought used cabinets from a HUGE kitchen for a few hundred dollars. We installed them, painted them, and in the end sold the leftover cabinets we didn't use and made some of the money back!
Paint your cabinets. The construction and style of cabinets really doesn't change all that much. But the finish and color options are endless! Painting your existing cabinets or "new" used cabinets can make them feel fresh and new and fit perfectly within any kitchen design.
Update cabinet doors or hardware. One strategy is to leave your existing cabinet boxes and just update the cabinet doors. Or even simpler is to just add new hardware. This can save money, reduce the scope of the project, and give your space an entirely new look and feel.
Buy Showroom cabinets. We purchased cabinets that came from the showroom of a cabinet retailer for our current kitchen. To give the full story, we actually bought them at a garage sale where the seller bought them from a showroom and never ended up using them. They were practically brand new, very high quality, and we estimate we spent about 1/5 of what they would have cost us new.
Kitchen Layout and Design with Used Cabinets
A quick note on used cabinets. When buying cabinets new, you first design your kitchen space and then fill it with the exact right size of cabinets. It doesn't always work that seamlessly when buying used cabinets.
We've found that it's most helpful to have a general idea of your cabinet layout ahead of time, while keeping an open mind to adapt the layout based on what you find. You want to be patient and find the right cabinets in sizes you can work with. But you'll likely end up modifying your plan to get them to work.
3. Countertops
The initial cost per lineal foot of new countertops may not send you into shock, but the total cost for your whole kitchen just might! Even for lower-end options, custom countertops can run you thousands of dollars.
We have fallen in love with butcher block countertops! They look great, make for an easy DIY project, and are durable and forgiving. If anything ever does happen to them, just give them a light sanding, refinish, and they're as good as new!
Large hardware stores carry standard butcher block sizes that will fit most kitchens and only cost a few hundred dollars. You can typically find them in 8' and 4' lengths, or a 4' x 36" option for an island or breakfast bar. We have fit these into two kitchens and they have looked great!
What if you need a custom butcherblock countertop size?
I built a custom island in our current kitchen that is very large. We looked into getting a custom butcherblock countertop made and requested quotes from a couple local lumber stores. The numbers we received made us gasp, beginning in the 3-5k range at a minimum.
Instead, I was able to make a quality looking custom island countertop utilizing leftover unfinished wood flooring and a sheet of ¾" plywood. I laminated the wood flooring pieces onto the plywood with wood glue and nails, and then ripped down some of the wood flooring to 1-1/2" trim pieces along the edge. Aside from time, it didn't cost me a thing since all the pieces were leftover!
What do you use to finish butcherblock countertops?
We used a beeswax finish on the butcherblocks in our first home. This worked fine. But in our current home we switched to pure tung oil from Real Milk Paint Co. Their Half n Half oil (half tung oil, half citric solvent) works great for butcherblock. We used Dark Half, which adds a beautiful dark pigment to your countertops and helped contrast our cream-colored cabinets.
4. Reclaimed or Repurposed Materials
Using reclaimed or repurposed materials in your kitchen can add lots of character and help keep that budget minimal.
We have found reclaimed or repurposed materials several ways:
Searching on Facebook Marketplace or Craigslist
Salvaging from old homes before they are demolished
Utilizing scraps from another project
And yes, dumpster diving or pulling items off a curb
There are hundreds of ways to be creative when repurposing materials. To offer inspiration, here are some of the ways we've incorporated reclaimed or repurposed materials into our kitchen.
Reusing antique doors for a sliding barn door between our kitchen and mudroom.
Finding scrap pieces of tongue and groove beadboard wood on FB Marketplace that fit perfectly on the half wall behind our sink.
Using another antique door, along with other salvaged trim pieces to finish out our kitchen island.
Finding hand hewn barn beams from an old barn that span our kitchen and dining space, which give an authentic farmhouse feel and pull the whole space together.
Using boards salvaged off a rotting hay feeder to build our farmhouse kitchen shelving where we store our cast iron pots and pans on.
Instead of tossing the hideous purple cabinet pulls that came with our kitchen cabinets, we decided to paint them the gold color we were wanting giving them an entirely new life!
5. Second Hand Furnishings
Once your space is mostly complete, those few final furnishings can really bring it all together. But again, don't default to new! Second hand options can add a lot of character and function to your space at a fraction of the cost.
Here's some examples of second hand finds we came across and absolutely love.
Lighting. Three separate light fixtures in our kitchen/dining space we bought used. They were really affordable. We get compliments on the chandelier above our dining room table all the time and it literally cost us $15!
Hutch/Buffet. New furniture pieces can be expensive. But we found that perfect hutch on FB Marketplace, picked it up locally, and we couldn't be happier with how it fits our space.
Barstools. Our custom kitchen island had a breakfast bar built in needing 4 barstools. Again, FB Marketplace came through and we found a set of 4 that looks great and were $10 apiece.
Just like when buying used cabinets, the key to second hand furnishings is to be patient and flexible. The right thing for the right price will almost always pop up. It might just take some time and searching.
Your Dream Kitchen Remodel on a Budget
The tips, tricks and tactics above can bring the kitchen remodel you've always dreamed of within reach. But it will take a different mindset and approach than you may be used to.
Remember:
Adopt values logic over consumer logic.
Don't make buying new your default and see what other options exist.
Focus on quality, new or used, above cost.
So set your budget. Take your time. Assemble the right pieces. Be flexible. And create the kitchen space you've always wanted while staying within your means.
Happy kitchen remodeling!