Best Gifts For Farmers And Homesteaders of Any Age
Do you have a farmer or homesteader in your life you're looking for the perfect gift for? This list is for you! There's sure to be the perfect gift idea on this list of gifts for farmers and homesteaders of any age or price point.
Finding The Perfect Gift
Farming and homesteading requires a fair amount of stuff – tools, gear, gadgets, kitchen items and even inspiration!
It's nearly impossible to accumulate it all at once. Few are in the position to go out and buy all of it right off the bat. So, we've found the perfect strategy is to instead add those items to our gift wishlist!
But sometimes, people don't know yet what to ask for, or you want to surprise them with something special, meaningful, and practical.
Well, the below list are all items we've either asked for and received or given as gifts over the years. Each has been a blessing to us and propelled us forward in our own farming/homesteading journey.
We're sure there's something on this list that will fit that farmer or homesteader in your life just right 🙂
THE LIST – GIFTS FOR FARMERS AND HOMESTEADERS
Tools/Equipment
The right tool for the job makes any farm task easier. And getting that farmer or homesteader in your life the right equipment might just help them kickstart that next farm adventure they've been looking into.
Gerber Multiplier
Everyone working the land should have a Gerber Multiplier – in my opinion. This handy multitool is strapped to my belt any time I tackle a chore or project. There are other fine brands out there, but Gerber offers a one-handed plier action that is remarkably helpful when your hands are tied and you're trying to fix a fence, prune a branch, or adjust something.
Treadlite Broadfork
A broadfork is a human powered garden tool that loosens up soil with minimal disruption to soil structure. They've become the tool of choice for many no-till farmers and gardeners for prepping garden beds. Treadlite is wonderful family owned small business and we have been very happy with our broadfork we received from them as a gift.
Steel Handled Pitchfork
After our wooden handled pitchfork snapped in half at the end of last years potato harvest, this steel handled pitchfork make it on our Christmas wishlist. We got it and it has not disappointed! It feels indestructible and up for any farm task we could throw at it.
Bee Hives & Beekeeping Gear
Knowing we were interested in a backyard beehive while living in the suburbs, one year we threw 'beekeeping supplies' on our Christmas list not knowing what that might bring about. We ended up getting a beginning beekeepers package with hive boxes and some basic tools that have launched us into a love for beekeeping.
Chicken Coop
Similar to beekeeping gear, we were even surprised one year with a kit chicken coop gift that became our gateway into homesteading. Maybe it's not a chicken coop or beekeeping equipment, but chances are there is some hobby or interest you can help kickstart in your farmers life.
Farming/Homesteading Books
Books can provide just the right inspiration, advice, and know-how for any homesteader or farmer.
This book is packed with wisdom and inspiration. Some of the biggest influencers in the food and farming space – Wendell Berry, Alice Waters, Joel Salatin – write letters to those already in agriculture or considering joining the movement. You'll laugh, cry, and be moved to take action in the call to produce food.
This beautifully compiled cookbook by Jill Winger is a treasure trove for any homesteader. Her recipes capture the essence of from scratch homesteading from field to plate and nose to tail. This is a book we go back to time and time again for just the right recipe and motivation.
A must have on the shelf for any home dairy enthusiast! Even if cheesemaking isn't your jam, this book is a most fascinating read! You'll walk away with a much deeper understanding and respect for cheese (and milk), its innate ecology, how it was made historically, and how you can continue to make it naturally today – or support producers who do.
A remarkably beautiful story of a family farms transition from an 'outdated' diversified family farm to a more modern, commercialized farm, then once again to a diversified farm committed to farming methods that regenerate and restore the land and habitat their farm is a part of.
Other Book Ideas
Medicinal Herbs, A Beginner's Guide (Rosemary Gladstar)
The Resilient Gardener (Carol Deppe)
The Market Gardener (Jean-Martin Fortier)
Kids Books
High quality, well written books for young, imaginative minds are something we're always on the lookout for.
The Julia Rothman Collection – Nature Anatomy, Food Anatomy, Farm Anatomy (Julia Rothman)
This book collection is fun and informative for kids of any age to gain a deeper understanding and appreciation of the natural world around them. The illustrations are fantastic and this book makes the perfect science and nature textbook for any homeschool family, or any school aged child.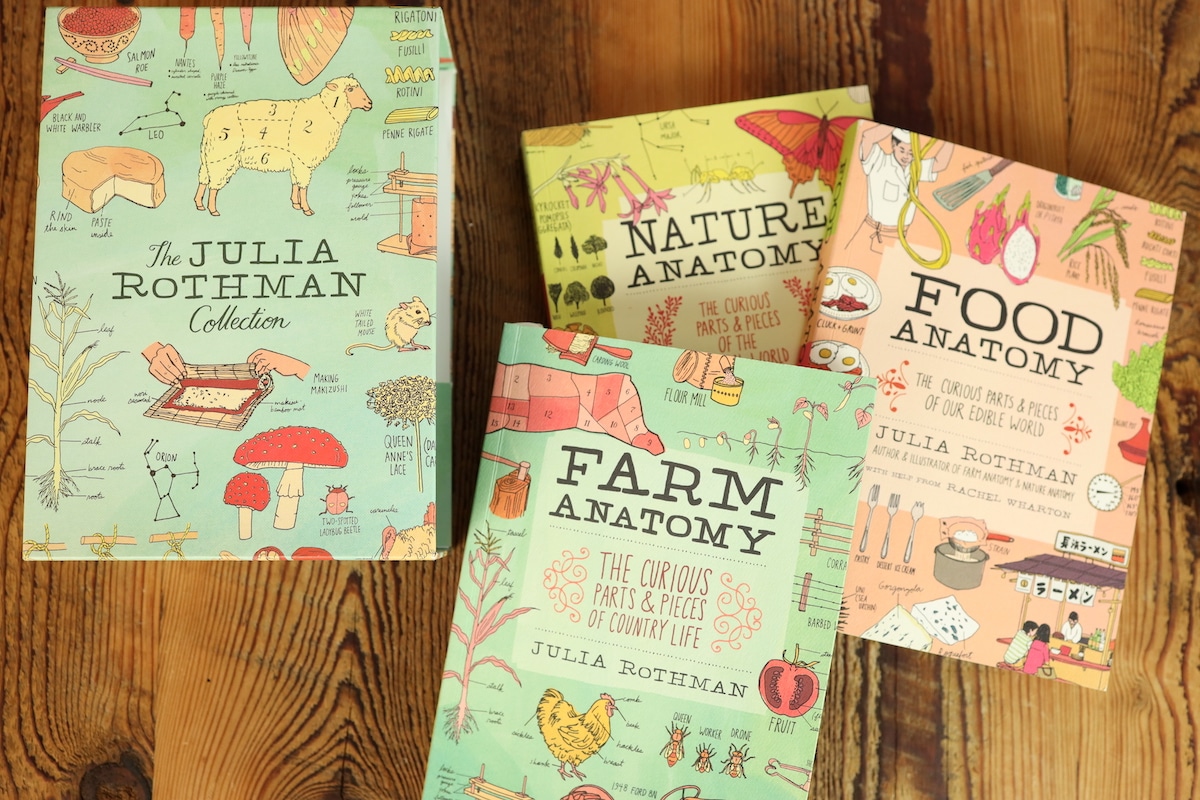 This picture book so purely captures the simple ways of the past that many in the farming and homestead movement are trying to recapture today. Our whole family longs for the simple life that Ox Cart Man depicts; it's a wonderful reminder to work hard and live with our basic needs being met.
Our friends at Field & Farm Co. produced this well loved picture book about their family's journey to produce hay for the first time to feed their highland cattle. It's informative, fun, and has great illustrations. Our family reads it time and time again and we've all learned a lot about the process of cutting hay!
Gear
Farming and homesteading requires the right gear – especially in those cold winter months. This category might not be for your farmer friend or neighbor. But if you're looking for the right gift that's practical for a family member, this could be the right list.
Base Layers
AKA long underwear! A high quality or wool base layer can be invaluable when heading out for chores in freezing temps. We both received (and our kids!) a wool base layer set (top and bottom) for Christmas and they've had no shortage of use.
Winter Gear
Caps, gloves, balaclavas, socks – all things farmers can and will use. Or, they are items that ware out over time and are handy to have a replacement for. One thing that regularly makes it on our list is high quality socks like these from Darn Tough. And if you have someone with milk animals in your life, we searched long and hard for just the right finger glove option that have made hand milking in the winter much more enjoyable!
Rubber Farm Boots
Muck Boots. Bogs. Whatever your preference of brand is, a solid pair of waterproof boots for farm chores and tasks can be a lifesaver. There's nothing fancy about them, but your farmer or homesteader will be grateful every time they slip on their rubbery soles to get the job done.
Farm Hat
A brimmed hat may be stereotypical when you think farmer, but it's earned that status for a reason! With long days in the sun planting, weeding, harvesting, or other farm tasks, a wide brimmed hat is just the ticket. Years ago, I purchased a Tilley with a gift card I received. This quality hat was an upfront investment, but it's more than paid for itself in keeping me cool and shaded when out in the sun.
Kids Sun Hats
Having shade protection for your kiddos is equally as important. We put these kids sun hats on our children Christmas list and have loved having them. From the beach to the garden, these hats accompany our kids for any outdoor adventure.
Kitchen Tools
From scratch cooking isn't a thing of the past for most homesteaders and farmers. It's a lifestyle! And quality kitchen tools and utensils are always appreciated.
Wooden Measuring Cups
These measuring cups add a fun aesthetic to any kitchen and are the perfect gift for the home cook who appreciates using quality, naturally made utensils.
Wooden Ladle or Spoon
Many pots and pans aren't compatible with metal utensils. And using plastic utensils, especially with hot foods, is a growing concern for toxins leaching into foods. We searched long and hard for the perfect wooden ladle and Klipknocky Woods had exactly what we were looking for on their Etsy shop. A wooden spoon is a great option also.
Wood Measuring Spoons
There's something enjoyable about using these cute wood measuring spoons over their bland stainless steel counterpart. Your foodie will love this low cost kitchen upgrade!
reCAP
Is the person you're shopping for overflowing in mason jars? Uh huh, we thought so! reCAP offers lids specifically designed for mason jars to give them different functions. Spray bottles, pouring caps, and much more. Overflowing in milk from our milk cow, the pour cap has been especially handy when pouring fresh milk.
Mason Jars & Canning Lids
On that note, a restock of mason jars or canning lids can speak oodles of love to that practically minded homesteader in your life!
Whipped Cream Dispenser
We try and keep our kitchen gadgets pretty minimal, but this whipped cream dispenser has earned it's keep. It is a family favorite that has made an appearance at countless special occasions. Everyones eyes widen when thick, frothy, homemade whipped cream starts flowing. Just don't forget to pick up some extra Co2 cartridges as well!
Ice Cream Maker
Many have ice cream makers that sit on their shelf, but if your special someone is committed to from scratch recipes or has a dairy animal, then a home ice cream maker will get plenty of use. We use ours weekly to make the most delicious Raw Milk Vanilla Ice Cream – Yum! You'll just have to invite yourself over for dessert sometime 🙂
Cast Iron Pans
The classic cast iron pan is having a renaissance among food lovers. No farm kitchen is complete without one – maybe even 2 or 3! We've found it helpful to have multiple sizes, or even multiple of the same size for hosting and making larger quantities.
Le Creuset Enameled Cookware
The stunning look of Le Creuset Enameled Cookware is only matched by its performance in the kitchen. Pots, pans, dutch ovens. We've accumulated a collection of these sought after pieces over the years and use them ALL. THE. TIME.
Food
Chances are as a food producer, your farmer or homesteader will appreciate, well… food! And high quality food at that. We like to look organic, fair trade, and even local when able.
Teas/Coffee
A fancy set of teas, or a high end bag of coffee may speak volumes to your food loving friend or family member. One option we've loved are teas from Four Elements Herbals, which are grown organically right on their family farm.
Chocolate
Did you know chocolate, when sourced and prepared properly, is not only delicious but can have many health benefits as well? Our friends at Zachi Chocolates produce some of the highest quality chocolates we have found that come straight from its Ecuadorian source. Their cacao nibs are also great for baking or other sweet treats.
Pasta Of The Month Club
Believe it or not, not every from scratch home cook makes their own pasta 🙂 While it does't have to be pasta, a food subscription is the gift that keeps on giving. This Pasta of the Month Club subscription from our friends at PastaBar will be a welcome package to any food lovers door each month!
Seafood Subscription
And what farmers really appreciate is food they can't easily produce on their farm. Hence, FISH! We've gotten a subscription from Sitka Salmon Shares in the past – who offer more than just salmon – and loved receiving wild caught, nutrient rich fish filets each month that were a special treat.
Some of the above links are affiliate links. This means we earn a small commission on qualifying purchases at no cost to you. We are so appreciative of your support!
Gift Card Ideas
Maybe someone just bought a new farm or you just can't decide on the right farm or homestead gift. Gift cards to the right place can be much appreciated! Here's some ideas:
Fedco – This east coast nursery has a vast selection of fruit trees along with many other food producing or ornamental plant options. Perfect for anyone just starting out to help them get their dream orchard established.
Johnny's – Johnny's is a great one stop shop for seeds, tools, and many other planting supplies you may need around the farm or homestead.
Lehman's – Think your local box store but only carrying high quality supplies specifically geared toward good ole' country living. Canning supplies, kitchen and food prep, farm and garden tools and supplies. They'll have something for everyone!
---
We hope this gives you some ideas for what might be the perfect give for the farmer or homesteader in your life! What would you add to the list? Share below in the comments so we can continue to build a list of ideas to help one another.